The word "prototype" can mean just about anything. It can mean rubber bands, paper clips, and pipe-cleaners from an ideation session. It can mean sketches, mocked-up "Frankenstein" concepts, or experiences that have been carefully choreographed behind-the-scenes. It may even be fully-engineered machinery. With such a big word, how do you know when the time is right to put your M.V.P ideas (minimum viable prototype) to the test?
Get the inside scoop on all things Prototype Testing from Ben Jacobson, partner at Conifer, as a guest on the Insightrix Podcast. Ben takes us back to design research's earliest days of applying observation and ethnographic research methods to new concept development and prototype testing and iteration.
Prototype testing not only is a best practice, it's risk management, due diligence, innovation, and design iteration rolled into one. It is dramatically cheaper, more interesting, and insightful to identify the joys or pains that you're about to set loose in the world at a small scale BEFORE you scale your offering to a full market launch. And sometimes it is only during prototype testing when it becomes painfully obvious that an idea needs to be radically transformed, repositioned, or even killed outright. There are no sure bets in innovation, but investments in prototype testing will always benefit the bottom-line in business, which is one of the reasons that some of today's most innovative companies continue to maintain cultures of test-and-learn cycles into their innovation pipeline roadmaps.
Click here for the full podcast interview!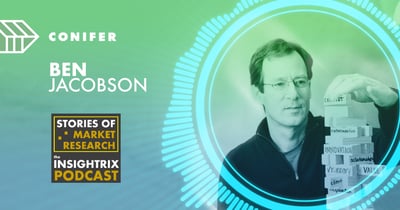 ---
To learn more about Conifer's approach to Prototype Testing and Living Labs,
click here to contact us!