It's natural to be reactive in our jobs. Trends move quickly and priorities can move quicker still. Keeping up with the latest emergency may fill our workdays with a sense of urgency, but it's not a sustainable way to get ahead. Constantly putting out fires keeps organizations playing defense and prevents them from seeing clearly enough to forge a clear vision for the future. This poses a major problem: how can you be a powerful leader when you can't get out in front of your work?
Constantly putting out fires has opportunity and budgetary costs. Working reactively leads organizations to overspend on the latest emergency instead of strategically focusing on the questions that could have the broadest impact and yield the deepest, perspective-shifting insight.
For best results, follow these fire containment best practices: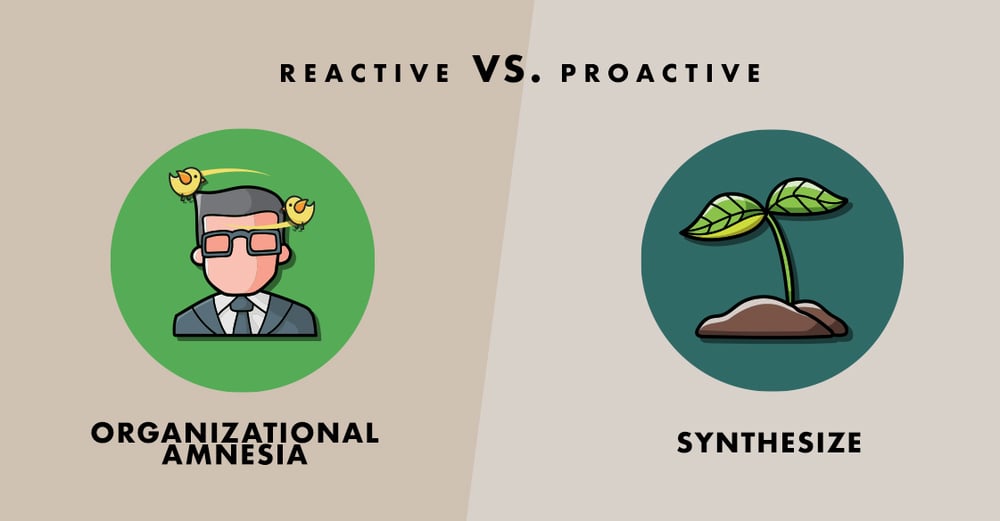 Reactive due to Organizational Amnesia?
We often begin projects with an "Assumptions Workshop." It's an opportunity to bring stakeholders together and ask straightforward questions like "What does your company know about Topic X?" and "What do you believe about these users' experiences?" These meetings do two things: they surface existing organizational thinking about the focus of the research and they reveal gaps in the distribution of, and alignment on, insights.
Herein lies the problem: organizations often struggle to identify what they do and don't know about their customers. When organizations are busy extinguishing fires, they miss the opportunity to step back and see what the research means as a body of cumulative knowledge. Instead what you have is a series of individual studies that are not well tied together. As a result, knowledge is lost or not socialized, projects cover ground redundantly, and future research questions are not as focused.
Proactive Counter Attack: Synthesize!
Synthesis projects are fast, cheap, and make the whole greater than the sum of its parts. Many consumer insights are buried within reports. Many others are never well socialized outside of their project teams. Often there is little time to connect all of the dots – to see how themes play out across projects or how quant and qual results speak with one another.
Make it a practice, even if once a year, to bring bodies of research work together to find recurring themes, surface new value and identify gaps. Sometimes the insights across projects can be richer in whole than those developed on individual projects.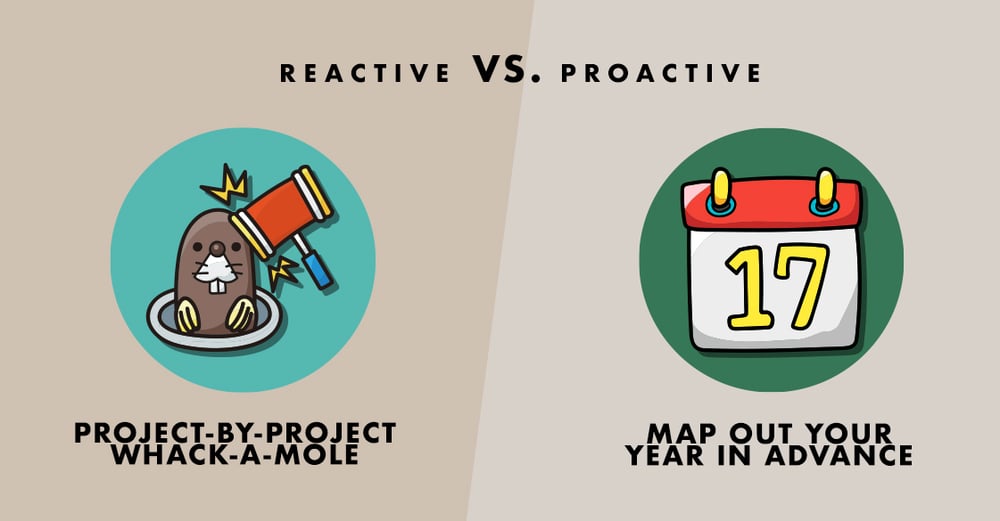 Reactive due to Project-By-Project Whack-A-Mole?
The immediacy of fires generally means you react to each one individually, constructing your projects to be fast and narrow. This often happens without us noticing. Different stakeholders in different parts of the business, sometimes each with divergent goals, questions, and budgets, want you to push their priorities to the front. But after a year of whack-a-mole, it can feel like you end up with a customer insights version of the Blind Men and the Elephant parable - different teams assess one aspect of your customers' lives in isolation and don't do a great job collaborating to truly understand the parts or the whole.
Proactive Counter Attack: Map Out Your Year in Advance!
Putting an annual plan in place, even if you don't follow it to the letter, can make you smarter and more effective in your research. Plan early and across lines of business. Think about the strategic initiatives that you are going to need to support and the questions those entail. Then lay out how different kinds of projects can build towards those goals.
For instance, if you have a number of different food and beverage lines, consider a foundational project on eating habits first. This will give you the broad understanding of people's routines, priorities, and the lived meaning of values such as convenience, natural, balanced, etc. Then insert small deep dives into specific product lines. This way all of your businesses benefit from the foundational work and they can be more nimble in gaining richer, contextualized insights into more immediate and granular topics. A roadmap for your year can help you focus on the innovation that could be in front of you instead of the fire that's already behind you.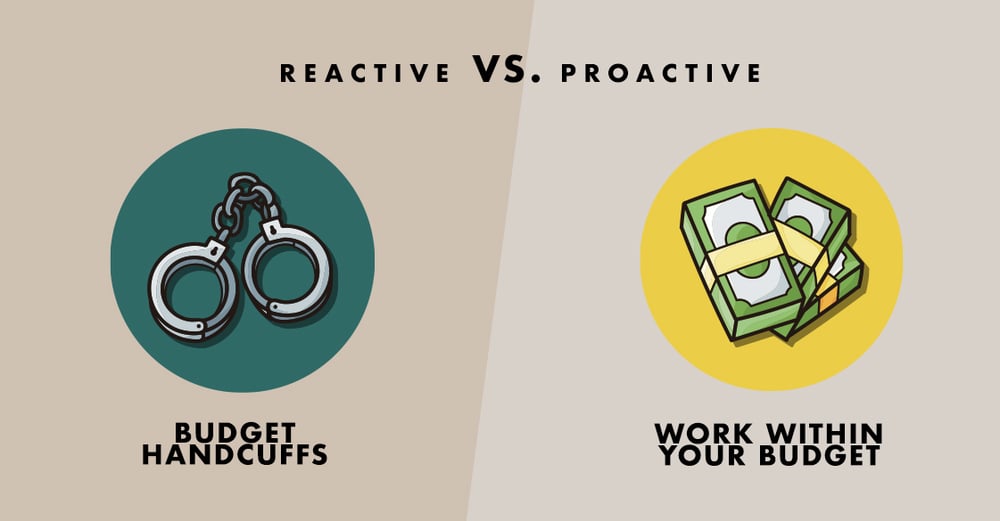 Reactive due to Budget Handcuffs?
Research and insights often get the short end of the purse string. Maybe you don't have the budget for a big plan. As a result, it is often the heat from the fire that helps any research get funded in the first place. This is unfortunate and all too common, but even the leanest organizations still need to develop empathy for the consumer to point the way to the next user-centered innovation. Sometimes we all just need to get a little creative with those programs we want to implement.
Proactive Counter Attack: Work Within Your Budget to Stretch Your Budget!
Using (and planning for) stage gates can make big research plans more manageable for your team and more palatable for your leadership. As with developing a full program think, about what you need to know and how you need to use it. Then map out how you can get there through a series of steps that incrementally push organizational knowledge while delivering smaller wins and value along the way. Your big foundational insights project to explore changing paradigms around a big topic like "loyalty" or "health" is out of reach, but you may be able to chip away at that knowledge through your smaller projects.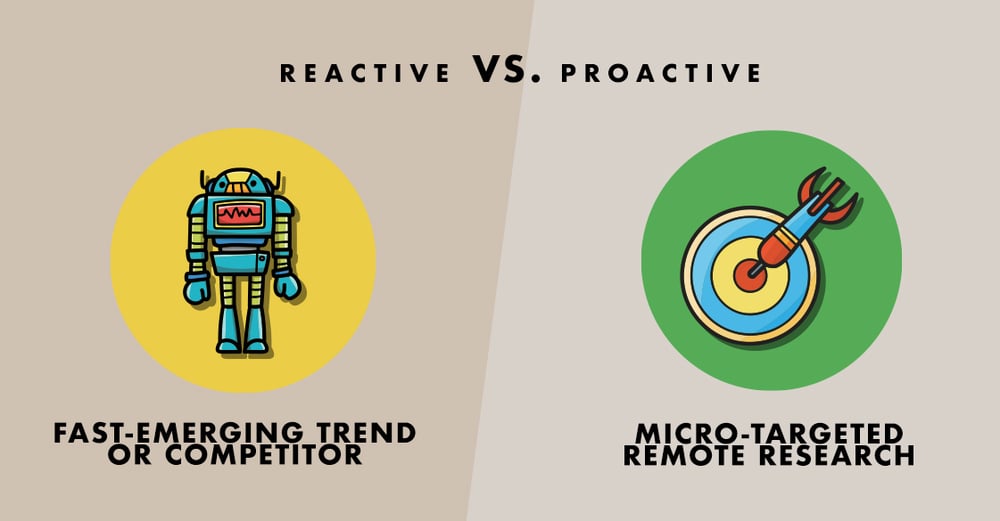 Reactive due to a Fast-Emerging Trend or Competitor?
No organization is fireproof. That new competitor is always going to pop up, those latest brand numbers will come in, or new leadership will want to shake things up. Any one of these factors may truly become urgent, but none of them mean you need to burn the whole thing down and start from scratch. Prioritize the most important questions and go out and get a win. Be nimble with your fire extinguishing strategy.
Proactive Counter Attack: Micro-Targeted Remote Research!
This is where quick-hit digital research really thrives. Two or three well-crafted remote research missions can give you a targeted dataset and get you solid answers in a fast turn. With the advances in remote research software, you no longer have to sacrifice on the quality of data to get fast and lean insights. From physical retail audits, scouting missions, product reactions, video reflections, diaries, concept inspiration, and more - the possibilities are endless even with the scrappiest of budgets. When considered in the context of your existing foundational knowledge of your customer, you'll be much better positioned on how to proceed.
And well, if everything is still ablaze you don't have to just pray for rain. We've got some extra fire-extinguishers handy and aren't afraid of a little smoke inhalation.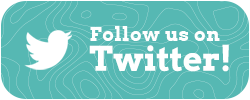 Want to continue the conversation? Follow us on Twitter and don't forget to tag @ConiferResearch!