Your research is only as good as your participants, and making sure you have found the right respondents in your sample is critical to a project's success.
Over the years, the Conifer team has faced more than a few recruiting challenges. Clients often come to us needing to understand their users... even if those users are a low-incidence population. With time, patience and creativity, they can be found! Our team relies on an arsenal of approaches to find the right people for every project. While we've been turned down by more than one vendor to help us source ideal respondents who can't be found easily on gen-pop panels, Conifer looks at the hard-to-find participant as a research opportunity! We leverage our ingenuity as researchers and our partnerships with some very creative and hard-working recruiters to bring alternative, bootstrapped recruiting techniques to find that needle-in-the-haystack.
Looking for stay-at-home moms? Call before 2:30 PM. Need to talk to roofers? Know your regional hunting seasons. Hoping to catch a surgeon? Get ready to entertain the idea of time as a flexible construct, or look to industry conferences to catch them when they aren't in scrubs between surgeries. Below we share a few stories from our experience that demonstrate the need to be creative, flexible and smart when recruiting for research. It doesn't hurt that a few of these are a bit funny as well. We lived. We learned. We hope you enjoy these alternative techniques for market research recruiting.
Get a Crystal Ball
Use your screeners to develop your clairvoyance into Plan B. One approach we use when we know we're up for a tough recruit is to create a holding pen of alternates that may not meet every screening criteria perfectly, but might be close. If we run into challenges, we can review or follow-up with holds to better understand the variation in their responses. Having a strong set of alternates in place to helps your team identify and mitigate problems before recruiting even starts. This can become a proactive system for overcoming quota challenges and can help you reframe your recruit before making costly mistakes with the wrong approach or losing viable leads. We often find the right person may have just interpreted a question differently based on their unique situation.
Key Learning: Sometimes the specific criteria we develop is an aspirational ideal. Don't end up in an endless pursuit of the unicorn participant that might not actually exist.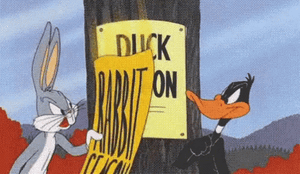 It's Duck/Rabbit Season
We often are given projects with a seasonal component. Need to learn about insect repellent? You won't be able to conduct that study effectively in Chicago, say mid-October. You may have to change the timing, or pick geographic markets that get your team to the action. Realizing you need people having outdoor activities when studying insect repellent behaviors is obvious. A less obvious issue of timing occurred when we were looking for roofers on a B2B study. We needed to observe as many of these tradesmen working with product in the fall season within a client's regional footprint. We were getting nowhere and were finally informed that it was the opening of deer season and there would not be one legitimate roofer available for weeks: they were all out hunting deer instead of laying roofs!
But if you choose to move your survey to Florida to catch people still engaged in outdoor activities, you might want to also make sure your trip doesn't coincide with Super Bowl traffic.
Key Learning: Think about the timing of your research project from every angle, but especially from your ideal respondents' availability.
Show Me the Money
For a recruiter, being seen by the people you want to recruit is the most important part of filling study quotas properly. Flashy emails and personalized outreach on social media can also be effective here. And if we're intercepting in a retail environment, we make sure we're seen with branded clipboards, incentive messaging and bright colors to catch people's eye.
But catching their eye requires a compelling monetary incentive. Fair respondent compensation is an important part of every project, especially in qualitative work that requires more time and effort from users. When recruiting gets difficult, clients may be ready to increase the incentive. But, we've taken a few lessons from our visibility experiences: before we ask a client to increase the incentive, we like to increase the visibility of the incentive.
Increasing the visibility of the incentive could include:
| | | | |
| --- | --- | --- | --- |
| No, really... show me the money. | Offer hard-to-resist charity donations. | Reframe the reward for their time. | Let them spend the incentive where they like to shop. |
The more highly paid your recruit is (e.g., a brain surgeon or CEO), the tactics need to change. However, the fundamentals remain the same: people need to clearly understand what the reward is and when they can expect it.
Key Learning: Get people's attention - visually.
Location, Location, Location
Respondents who enjoy specific activities can be found in many databases, but the incidence rates may be low. And the best way to increase success with a recruit is to find ways to increase your incidence rate through smart targeting. We work with partners who leverage digital behaviors and ads targeted based on individual's browsing histories to help us get targeted ads in the right places and in front of the right people, increasing the incidence rate if you are sampling from the right pool. This also requires you to have some existing knowledge of which behaviors are indicative of your target customer. Looking for Gen Z-ers? Don't even think about putting your recruitment ads on Facebook. When targeting, you also need to make sure you don't over target from a single source to avoid a biased sample, so this is where leveraging multiple techniques at once can help. Looking for fans of a specific service? Social media followers or fans are a great place to start your targeting, but you'll also want to have some participants sourced from a GenPop sample so that we have a good representation of different consumer types.
If we want to talk to people who visit certain restaurants, we can even target specific zip codes, regions digitally or even specific locations in-person. If we want to observe how a free hotel breakfast made a difference in the choice of hotel, we eat breakfast in that hotel. If you need to talk to people about their food delivery experience from a particular restaurant, you need to insert yourself into the delivery radius.
Getting specific with the behavior you're looking for allays client concerns that the customer is a true customer or potential customer. Targeting physical or digital locations gets the right recruits quicker and acts as an organic pre-screener to help shorten the recruiting timeline and increase your incidence rates.
Key Learning: Get up and go to where the participants are.
Meet Me Halfway
Some of our toughest recruits have been vulnerable populations - such as students with learning disabilities, the elderly or rare patient populations. Recruitment and research in these areas require a lot of thoughtfulness, and where we need to make the most of both our empathy and ethics to maintain transparency and build trust about the sincerity of our learning goals. But it is not always possible to build that trust quickly or completely within the timeline of a study. Because we don't have the time to build trust from the ground up, we often look for ways to leverage other connections of trust to conduct our research.
Inherently there is always a power differential between the respondent and their interviewer. We work hard to even the playing field. Total transparency about the study goes a long way to brokering the first agreements to trust. Leveraging trusted networks and trusted locations can also speed up this process.
Trusted Networks: Recruiting trusted intermediaries can help leverage their earned trust to more quickly be transparent with people about the nature of the study. If it is a very rare disease, the incidence rate is incredibly low and therefore traditional recruitment efforts won't yield a result. Finding a network such as a support group or patient advocate organization may be the quickest way to legitimately connect with the right participants. Sometimes referral programs within trusted networks can be the most effective approach, so we often budget for this network building on hard-to-fill recruits.
Trusted Locations: Another way to establish trust is conducting the interviews in places that will set the respondent at ease - such as a senior center, a nearby bed and breakfast, known polling station or library. Connections with well-connected community members at local church groups, business networking groups or chambers of commerce can also help move the needle on trust. Leveraging social capital can more quickly recruit key members of your targeted group and complete the study.
Key Learning: Building trust is essential.
No two projects are alike. At Conifer Research, we're flexible in our thinking, our approach and in our recruiting. The highest quality of insights start with the most carefully considered methodologies, but the expertise of proper recruiting and management of the humans who deliver the insight makes the biggest difference.